Exploring Nauyaca Waterfall Guided Tour with Paddle 9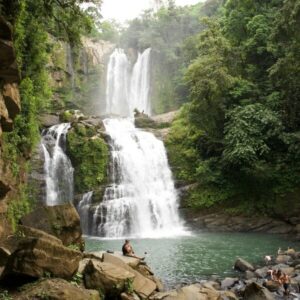 Imagine yourself in a hidden paradise nestled in the heart of Costa Rica, where emerald-green waters will cascade down lush, tropical surroundings. This paradise is Nauyaca Waterfall, a natural wonder that beckons adventurers and nature lovers like you. To truly unlock the secrets of this pristine gem, you will embark on a guided tour with the waterfall experts at Paddle 9. Join us on this virtual journey as we recount the unforgettable experience of exploring Nauyaca Waterfall with these seasoned professionals.
Getting to Know Paddle 9: The Waterfall Experts
Before you dive into the adventure, it's essential to introduce you to the masters behind the magic: Paddle 9. This dedicated team of outdoor enthusiasts and seasoned guides has a deep-rooted passion for Costa Rica's natural beauty. With their years of experience, they have become synonymous with thrilling waterfall explorations, and their expertise will be unrivaled.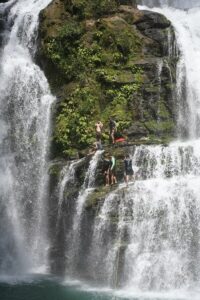 The Adventure Begins: Navigating the Terrain
Your adventure to Nauyaca Waterfall begins with an exciting tractor ride as you make your way into the heart of this lush wilderness. Once you arrive at the trailhead, prepare for an exhilarating downhill hike that will take you on a thrilling descent of 900 meters. As you navigate the well-maintained trails, your knowledgeable Paddle 9 guide will continue to regale you with captivating stories and information about the rich local flora and fauna. From the vibrant toucans perched high in the trees to the agile howler monkeys swinging through the canopy, the rainforest will truly come to life before your eyes, making this journey an unforgettable experience.
Arriving at Nauyaca: Awe-Inspiring Sights
After a picturesque hike, the moment of truth will arrive as you reach Nauyaca Waterfall. The sheer size and power of this natural wonder will take your breath away. Crystal-clear waters will plummet from a height of 45 meters (150 feet), creating a mesmerizing spectacle. Thanks to your Paddle 9 guide, you will learn about the waterfall's geological history, adding another layer of appreciation to the experience.
Taking the Plunge: Swimming and Cliff Diving
One of the perks of guided tours with Paddle 9 will be the opportunity to swim in the waterfall's inviting pools; there will be something for everybody! After a refreshing dip, adrenaline junkies among you won't be able to resist the thrill of cliff diving from safe, designated spots, which will be an optional highlight of this tour. The guides will ensure that you swim with the utmost safety.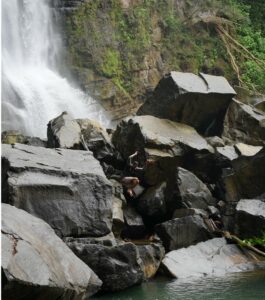 Conclusion: A Journey Worth Taking
Exploring Nauyaca Waterfall with the waterfall experts at Paddle 9 will not be just a guided tour; it will be a voyage into a world of natural splendor. From the enchanting rainforest to the roaring waterfall, every moment will be a testament to the wonders of Costa Rica. If you are seeking an adventure that combines nature, excitement, and exploration, look no further than this unique adventure as the key to unlocking the secrets of Nauyaca Waterfall. Dive in, explore, and let the magic of Nauyaca captivate your soul.
Tour Recommendations:
For an enjoyable experience on this tour, it's advisable to be in good physical condition. We recommend wearing comfortable shoes, a change of clothes, sunscreen and towels. Please note that this tour may not be suitable for individuals with underlying medical conditions or those who have undergone recent surgeries.